I wasted months trying to make vertical work – never doubting anything else would be good for a small space.
I love reading about extraordinary feats of maximizing small space – like this tri-level 182 square foot apartment via Faircompanies.com.  I had 900 square feet, so I thought if I went vertical it would feel absolutely titanic.
And I suppose it was – in that it crashed and burned.  Vertical made our space feel small, visually cluttered, and less relaxing.  Fortunately, for most homes, small ones included, there is an alternative.  Our home feels like a mansion now, but it's because vertical was banned.
Myth: Go Vertical, Truth:  Go Long & Low
A set of 3 tall Ikea Billy bookshelves came with us to our apartment.  We assumed they would be needed and welcomed.
1st:  They went in the master bedroom.
It wasn't peaceful sleeping with stuff towering above our heads.
2nd:  To the dining room.
I didn't like eating with our clutter.
3rd:  To the living room.
It felt crowded.  I added makeshift doors with curtains thinking the visual mess was the problem.  Didn't work.
4th:  To the entryway.
At 4 feet wide, the row of 9 inch deep shelves fit fine in the hall, but I hated coming home to that.
5th:  To the kids' room.
I worried the book towers would fall despite being secured to the wall.
Meanwhile back in the common areas, I was searching for an office armoire and an entertainment center.  I assumed taller was better since it would increase our storage.  Still, I couldn't figure out why I hated everything I found.
Then it hit me.  I hated anything above my eye level because it made the space feel small and crowded.  It was an epiphany I didn't have a solution for right away.  Where would our books, DVDs, games, photo albums, memorabilia, office supplies, and toys go?
Turns out, moving things 6 times in 3 months helps prioritize what's really wanted.  Many items were cut.  With less stuff, I attempted being more creative with color coding, fancy stacking, or accessorizing.  Artfully spread out stuff is supposed to look nicer, right?  This is a horrible technique for small spaces.  I realized if I consolidated everything tightly my stuff would all fit on low shelves and I didn't need vertical.
I abandoned all searches for tall entertainment centers, tall armoires and tall display cases and committed to keeping everything as low as possible.
What Vertical Gets Wrong
It DOES NOT make your space feel bigger.
It unconsciously creates a state of unease because nobody likes the threat of potential avalanches from above while relaxing or sleeping.
It blocks your line of sight.
What Vertical Gets Right
1.  It puts things in your line of sight.
Displaying collections, art, or books may be the intended goal.  It can be comforting and cozy to be surrounded by the things you love.  I certainly went through life stages where I wanted to see my things and have conversation pieces out on display.
2.  It maximizes closet space.
Vertical also works in closets – places you don't have to live in.  Our subconscious notices looming threats.  Even if you don't live in earthquake prone areas, image you did.  Would you be safe while sleeping, reading, or watching tv?  It's surprising how much more restful a place is without vertically stacked things.
3.  It solves a math problem.
Vertical works if living with less is easier said than done.  X amount of stuff in a finite space has to go somewhere and simple math tells us stacking high is better than tripping over it.
Here's the problem: conventional wisdoms says the more you stack, the more floor space available, ipso facto your space will feel bigger.  This made total sense until I was living in vertical land with lots of floor space but nowhere restful for my eyes to go.
Floor square feet versus visual square feet
Long sight lines make a space feel bigger.
Susan Susanka, author of Creating the Not So Big House explained this in an interview*:
If you can see from one corner of the house to the exact opposite corner, what happens is you're really looking along the hypotenuse of a triangle, so you've got a longer view and it makes the house seem bigger.  The principle is called diagonal views. It's a super simple idea and the smaller the house, the more effective it is.
"Going vertical" cuts off visual square footage and crowds the most important space for feeling spacious – what's right in front of you.  The farther you can see the more expansive it feels regardless of how much you can move around or floor you can see.  This is why windows, mirrors, high ceilings, and lighting dark corners are so effective at making a space feel spacious.  They give places for the eye to go.
Imagine Ikea's expedit/kallax shelves.  They can be placed vertically or horizontally.  I assumed vertical would be better since it took less floor space.  But I'm 5 foot 4 inches – the top shelf at 5 feet high is literally in my face.  By laying the shelf horizontally, more floor space is used, but the room will feel bigger.  Nothing is in your face reminding you your space isn't big enough.  Hands can now swing freely while standing or walking by.  There is the same amount of storage, but now you also have a bench to sit on.
Think about it.  If something is at our shoulders, like a wall or tall shelf, we automatically move away to create a bigger personal bubble of space. (Unless we are avoiding situations or measuring our height, sometimes we do hug walls.)  But, if something – like a counter or credenza – is next to us, we are fine standing next to it.  Our legs aren't sensitive to being crowded like our hands and heads are.
The above the room uses long and low and vertical concepts.  I love the long and low elements – the couch, chair, built in benches, table, and foot stool.  The vertical elements not so much.  Look at the 3 white wall shelves on the right.  They are directly across from the door entering the room.  These shelves cut short the line of sight.  Removing them would expand the room.  Everything displayed would easily fit on the recessed shelves by the red couch anyway.  What do you think?
Here is an example (in my humble opinion) of a vertical fail.  It's showcased as a success, like most are, but from the vantage point of experience I must respectfully disagree.
Small Space Storage: 8 Ways to Go Vertical | Apartment Therapy
Do you see the tower of books to the left?  Think how much bigger this space would feel without it.  I see all kinds of low space going unused: under the chairs, under the armoire, under the table, probably behind the chair under the window.  That whole vertical shelf could disappear, the books easily fitting under existing furniture.  With digital books or library use the owner could free up even more space.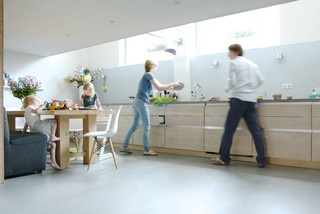 It's not just me
I love these to two articles talking about giving up vertical storage in the most unquestioned location – upper kitchen cabinets.
One is a blog post:  10 Reasons I Removed My Upper Cabinets.
The other is from custom cabinet makers explaining how to make a kitchen feel bigger and add storage by removing upper cabinets.  For example, instead of standard 2 feet deep counters and base cabinets, by using deeper drawers and counters 2.5 feet or 3 feet deep, valuable storage and work space is gained without cutting into any lines of sight.
Asian cultures think low too.  They create higher ceilings by sitting on pillows instead of chairs or by sleeping on the floor instead of high on a bed frame and box spring.  Thinking vertical is reserved for spaces behind closet doors.
The kids' room
I've mentioned before the kids sleep Japanese.  The tall bookshelves we had were doubly onerous compared to their vantage point on the floor.  The kids now have Ikea's LACK shelving laid down parallel to their beds.  It's a barrier to  prevent kicking walls, it's a bench, a display shelf, and an organizer.  It occupies more floor space than if it was vertical, but horizontally it adds visual space and functionality.
I'm thankful I learned my lesson about vertical space on a rented apartment.  Our next move may be to a condo we own and remodel.  I'll be thinking long and low when it comes time to add built ins.
Update: We remodeled a condo we now live in!  We avoided vertical as much as possible, but found there are times there is just no way around it.  If you must go vertical, here are the rules we learned to do it right: 10 Rules of Going Vertical